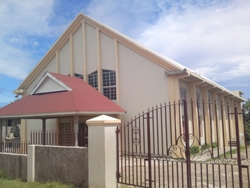 When the lives of men and women who changed history are explored, then history comes alive. TheGospel of Jesus' soon return and His matchless grace resounded from the mouths of simple men and women, who were compelled to tell others about their champion, Jesus. Each Sunday morning at 6am, believers from the Montego Bay, Harrison and Paradise SDA church, made their way to the Prayer circle at Cottage Road (former location for Harrison Memorial High), conducted by Joan Sinclair. The air came alive as persons peeled the pages of their bibles, "The Great Controversy", or "The Desire of Ages". Words of encouragement were offered and persons were enthused to share with others what they learnt. This enthusiasm ran through their veins like hot blood as they journeyed on foot to the hills of Canterbury and Norwood. For Carol Benboe, Gladston Campbell, Paulette Campbell, Alty Ferguson, and Courtney Wynter - Each house became their home. For Oscar Stephenson (Steadman), Cecile Ruddock, Richard Whittingham, Wesley Scott, Charmer Anglin, Seption Anglin, Courtney Young and Winston Jones( danny) -Each person became their next soul to win for Christ.

Little did they know, that when they journeyed from the East to Norwood on Sabbath afternoons, that
members from Paradise came with full force from the West on Sunday evenings. Children gathered on
a small verandah to hear Bible stories from Mrs. Sadie James- Clennon and admire the pictures shown
form the Bible Picture scroll. George Heavens ,Michael Russell and Ralph Jones, stalwarts of Paradise
SDA took the hills by storm on Sunday evenings to host open air meetings at the cross road on Top Road.
Soon after, both forces joined efforts and decided that , " The Gospel is of no profit except it be
believed", hence the first crusade came underway in November 1978 with Bro. Courtney Young
proclaiming the words of God and spreading the Advent message for the first time in Norwood. The
visitors and members embraced the offer of a small an unfinished room on top road to house meetings.
The seed was planted and about seven persons gave their hearts to the Lord. After the crusade had
ended, each Sabbath spent in the tabernacle, painted a different colour in their hearts. Everyone was
eager to know more and Pastor Austin (former pastor of Paradise SDA), preached with his whole heart
that first Sabbath after the crusade.

It was now time for persons to go their separate ways. The believers from Montego Bay SDA entered
new territories and members from Paradise SDA returned to their community to continue the Lord's
work. The work continued- a new church location had to be found; so in January 1979 Sis Nora Samuels
(Mother Sam) offered a piece of land to construct a temporary structure.

It does not take great men to great things; it only takes consecrated men. Laymen who were guided by
the Holy Spirit, eager to draw men and women to God took charge of the organization of the Branch
Sabbath School in Norwood. Winston Jones, Urma Brown-Jones, Ezekiel Palmer, Percival Thompson,
accompanied by other members such as: Alty Ferguson, Doris Wright, and Vernon Mckenzie held the
banner of "Prince Emmanuel" flying high in Norwood. No earthly power, skill, or learning can supply the
place of God's immediate presence. God's intimate communion was immensely enjoyed as visitors and
members pulled hands and hearts together to get the structure ready for Church that first Sabbath at
their new location. Sis Valrie James, a visitor to the church then, offered her father's tools to build thechurch. Each stick, round wood, bamboo seat and coconut branch used for roofing was appreciated with sheer joy. The building project started- visitors and members made donations to buy zinc, a vestry was added on, a rostrum (2ft 6 inches) was erected; a microphone and other equipment for church were bought and stored by Sis Rose Spence's house.

The field was ripe, the labourers were few but Sis Jones, Bro Jones, Sis Grant (Bible worker from
Glendevon SDA), went in the name of the Lord, with Bibles in hands and a heart of love; they travelled
the hills and plains of Norwood searching for persons to invite to church or to the crusade held at Jarrett
Park by Pastor E.R.E. Wright in 1980. (The pastor who won many souls for the Lord, made his appeal
before preaching, by simply saying," Come, Come, Come to Jesus, Come, Come, Come, and Come). A
number of persons heeded the call and were baptized at the Montego Bay SDA church between 1979
and 1982 namely: Valrie James, Uriah and Millicent Williams, Julie Rockhead, Anthony and Rosetta
Smith, Yvonne and Laban Facey, Bro Cooper, Leroy Willocks, Lorna Wright, Yvonne Wright, Donna
Kerr-Gordon, Elsa and Ralston Gordon and many others.


The Christians who have turned the community of Norwood upside down have been men and women
with vision in their hearts and the Bible in their hands. Fellowship, Love and unity, prayer circles at 6am
on Sundays, house to house visitations, careful study of the word on Sundays, Wednesdays and Friday
nights, and a passion for mission- these formed the background of the Norwood SDA branch Sabbath
school ( Ephesus). In 1984, Elder Jones held the first crusade at the ball ground in Hendon. Twenty
souls were garnered for the Lord's Kingdom. This thriving company was counseled by Pastor Grey and
then Pastor Earl Oliphant. They appointed as elders: Winston Jones, Percival Thompson and Ezekiel
Palmer, Church clerk and Superintendent Responsibilities were monitored by Urma Jones, deacons were
ordained: Laban Facey and Anthony Smith. Choirs were formed, Missionary Volunteers programs were
conducted, and weddings were hosted.

The church grew out of its leaps and bounds. Their eyes sought a plot of land on the hills of Greens and
on that Sunday evening in 1985 Pastor L.C. Thomas and Pastor C.T. Brevitt coordinated the ground
breaking ceremony to erect a new temple. This was only a continuation of what was to become. The
spreading of the message was the focal point. Elder Ezekiel Palmer sounded the alarm, as he echoed
thus saith the Lord in the "Gospel Light Crusade". Phillip Broomfield, Ransford Broomfield, Anderson's
family, Moncrieffe's family, Brady's family, Madrica Broomfield, Nola Broomfield, Porteous' family,
Roach's family ;they could not resist the charm of the gospel. Everyone was on fire for the Lord. Welfare
Ministry came alive as meals were prepared for community persons, Remant brothers and Remant
sisters along with the poet Veneice' Hemans( cutie) lit up the congregations in Axe and Adge,Jarett Park and other crusades.

The mission field was kept alive with adults on Sabbath and children on Sundays, led by Phillip Reid,
Julie Rockhead and Urma Jones. The believers beamed with joy as everyone worked together with hands and heart to build up the Lord's temple; physically and spiritually. On September 12, 1988, Hurricane Gilbert gave the sanctuary a 'FLAT LOOK". This took us by surprised but the brethren didn't give up hope. With whatever material was left, it was refurbished and stood firm with three sides ready for worship the following Sabbath. The Lord had a plan in mind. The fourth side of the building was left open to welcome the brethren from Paradise SDA. ( Delora Powell, Celeste Black, France's Family, Carmen Brooks, Sis Maud, Llewellyn's family, Ellis' family, Sterling's family,Ottey's family, Sis Beck, Clarence McKenzie, Elder Clayton and others) With the wealth of knowledge brought by the friends and family members of Paradise SDA, the other
departments were boosted. Health seminars were held, Pathfinder Club got underway, Sewing classes
were held, more open air meetings were held in neighbouring communites from Paradise to Home hill.

We were then adopted into the Flankers District and more crusades were held in Flankers by Pastor
Conrad Duncan and at the ball ground next to the Norwood Housing Scheme by Albergo Foster and
Pastor L.C.Thomas , at Dump- up Beach by Bro. Rainey and Evangelist Fitz Henry (Feb. 1992) . The
membership grew exceedingly. Persons saw the need for a new structure. Some couldn't part with the
zinc structure as they had lingering memories of Sabbath school, Women's Ministry and A.Y. programs,
Youth Fellowship, Rally, Harvests, Children's Day, Thirteen Sabbath skits, Morning Week of prayer
sessions, Bible Classes…

Elder Zephaniah McIntyre displayed his architectural skills and drafted the plan for the present structure
of the Norwood SDA Church. The melody of the chorus," Building up the Temple", rang out on Sabbath
mornings as adults, visitors and children alike brought their gifts to the altar. The foundation was now
laid. Persons came every Sunday to get church work underway. Work socials were the best on Saturday
nights, as buckets of mortar swung from hand to hand to finish the work. The zinc structure was finally
deserted and members moved over to the wall structure in September 1998.

Bro Nalton France and his team organized a grand gospel concert that was staged at the Noel Fraser
Auditorum in an effort to boost the church's building fund. We did not conceive that it would have taken another fifteen years of laborious effort , interspersed with large tent crusades at Dump Up, Ball Ground, Norwood Gardens, church crusades, street meetings, prayer walks bible work championed by Bro Anthony Smith.
Structural progress was now directed by the late Rufus Green. Pastor Corben Crew secured the service
of a contractor and the building later had its roof framed.The song writer must have been under inspiration when he wrote "There's a place for every worker in the vineyard of the Lord." Bro Hector Smith and Sis Claudeth Hall injected some financial energy and several fund raising activities and cost cutting measures were implemented. A loan was secured from West Indies Union and the building was not just taking shape but was aesthetically transformed. Roofing, lighting, tiling, ceiling fans, benches, work was moving on rapidly.

What a joy we experienced as our Lord added to His church monthly, those that should be saved. Baptismal date would be announced at the beginning of the month even before a candidate had been signed up for baptism. Our membership increased steadily. We had grown from a small company in 1979 to over 700 in 2003 and ten years later to over 1200, bearing in mind fluctuations caused by migration, apostasy and sadly but truly death. We were never daunted, but searched as with desperation for more ways and means of growing and discovered that one very fruitful option is
by cutting and replanting. In October 2011 more than 25% of our active membership was cut and replanted in Homehill and the yield has been remarkable. Fifty-fold; sixty-fold and, increasing.


To everything there is a season. The dedication of Norwood Seventh-day Adventist church has been brewing on our minds and sounding form our lips in the last few years but the truth is that the last ten months has put much meaning to the phrase. We did not have $5,000 left in our account after Bro Hector Smith's risky but prudent appetite led him to negotiate with Bro Astley Shakes to do the ceiling for us. We scraped everything and made a deposit. We had borrowed, begged and with no immediate solution, he volunteered to purchase the material, import and install the ceiling while wewaited for the necessary funding. Our sincere appreciation for such generosity. We are indeed thankful for the assistance received from our Union's loan fund in June 2013, which has propelled us forward. Encouragement has sweetened labour and in the last two months it appears the workforce has been summoned by Sis Lorna Scott, endorsed by Pastor Maurice Chambers and supported as if a warning had come form the prophet Haggai. Well, it would have indeed been worth it. For what was but a desire has now become a reality. Not just an experience but an act of dedication. A church, a place where prayers will be said, supplications will be made, sins will be confessed, warnings will be sounded, lives will be transformed, praises will be uttered and preparations be made to transit with our Lord and soon coming King into glory.

Our sincere gratitude to everyone for the contributions made in cash, in kind, verbally and physically, in the early stages, during the mid period or at the eleventh hour. We believe that whatever you have done was done to the honour and glory of God. May you hear the grand "WELL DONE".The Seventh-day Adventist Church in Norwood organized by God, a place of refuge for troubled souls and built by His co-labourers; with a passion for mission. The journey continues.